During this year's CIIE, Kjeldsens made its debut in Ferrero's booth as a new member in the family, to the surprise of many: "You're from the same company?"
In fact, despite the separate brand operations, Kelsen Group A.S., the marker of cookie brand Kjeldsens, was acquired by a Ferrero Affiliated Company for over RMB 2 billion last year. Kjeldsens has also become the newest trick up Ferrero's sleeves in China's cookie market. As we learned that, one year after the deal was completed, the two companies have now essentially integrated their operations in the Chinese market.
During our conversation last Saturday with Lisa Zhang, General Manager of Kjeldsens China, we learned that the brand has exciting plans for channel expansion as well as scenario diversification, with the support from Ferrero. After generating sales in China totaling RMB 400 million last year, Kjeldsens, the Danish cookie brand is expecting a year-on-year double-digit growth in 2020.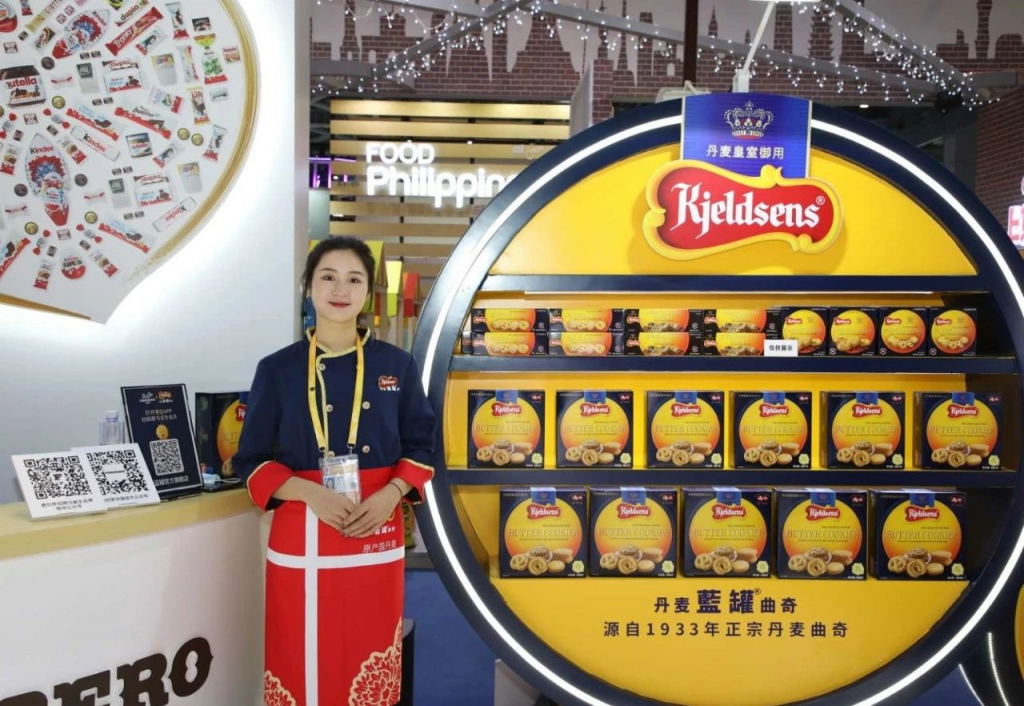 Focusing on more scenarios beyond Chinese New Year
"Kjeldsens and Ferrero are two independent legal entities, but we will see deeper cooperation in the future" said Zhang. From leveraging the strong distribution network as well as capturing the demands on Chinese customers, Kjeldsens stands to leverage Ferrero's strengths to build brand power and expand its footprint.
Since joining the Ferrero Family, an area of focus for Kjeldsens has been developing diverse shopping scenarios.
Kjeldsens is currently the go-to choice for holiday gifts for many customers in China – Chinese New Year is the most crucial sales period for the brand, yielding its highest sales. As Zhang tells us, despite fluctuations from one year to another, the sales volume during Chinese New Year is likely to account for over 50% of total annual sales".
"The first reason is that Chinese New Year is one of the most important traditional holidays for our customers in China. The fact that they choose Kjeldsens for their gifting purposes is a great recognition for us. We believe the market is not yet saturated. There is still room to deeply cultivate in." Zhang said.
On the other hand, she pointed out that Kjeldsens has worked hard during other sales periods as well. "We have seen customers buying our cookies on the other occasions, like Mid-Autumn Festival, Labor Day, Teachers' Day, birthdays and parties."
One example Zhang mentioned is the fact that Kjeldsens made some changes to their in-store product displays during this year's Mid-Autumn Festival to better showcase the brand's packaging design. "I'm not going to reveal everything here, but during the next steps of our marketing plan, you will see something entirely different from before, like pop-up stores, for instance."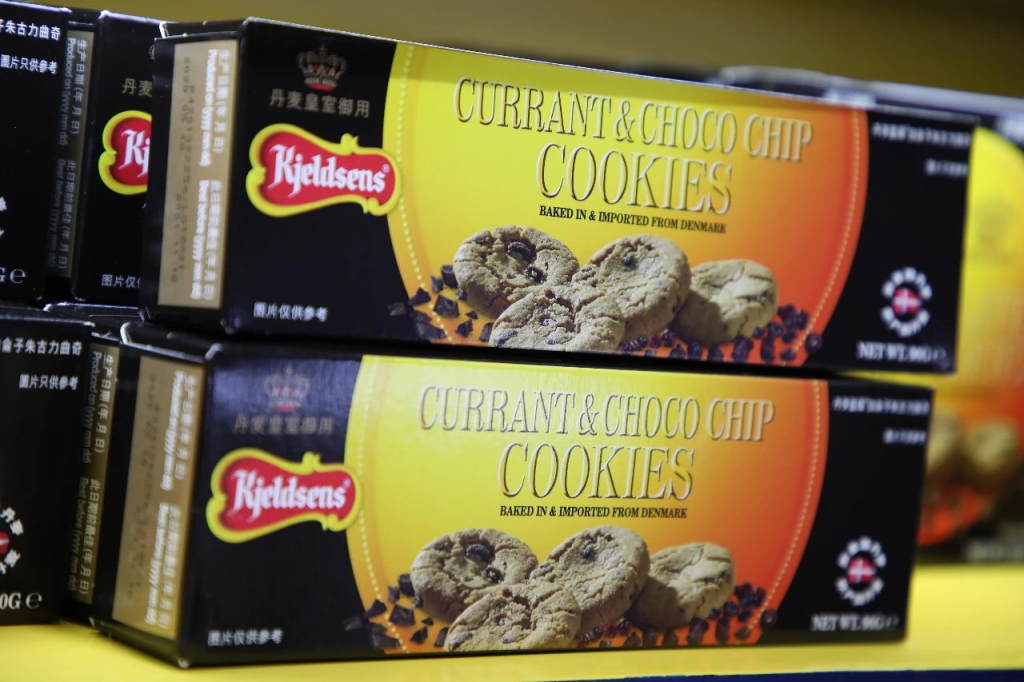 Kjeldsens is also expanding its product portfolio to meet different consumption needs in different scenarios accordingly. "In addition to large gift box packs, we also have products in smaller packages for afternoon tea sessions and work breaks," Zhang said. As we have learned, Kjeldsens now has nearly 20 SKUs in the Chinese market. All of them are directly imported from Denmark.
When asked whether the brand will consider utilizing facilities in China for localized production after joining Ferrero, Zhang indicated there are no such plans at the moment. "In my opinion, localization does not equal to localized production. With the help of Ferrero, we hope that Kjeldsens can better meet the demands of local customers. We will further expand our investments in this area."
Step-by-Step Innovation
When it comes to product innovation, Kjeldsens integrates globalization with localization.
Zhang told us that Kjeldsens' team in China will send the feedback of local customers to its R&D center in Denmark. Based on the understanding of their products, the center will conduct R&D on the new recipe and provide feedback to the Chinese team, which will make final decisions on product innovation based on the consumer research.
Zhang explains that Kjeldsens has always kept an eye on the popular flavors in the market. "In recent years, sea salt flavor has been growing in popularity among customers, so we launched new sea salt-flavored products." However, she also emphasized that Kjeldsens' strategy is to turn the popular into classics, instead of merely following what everyone else is doing.
It is not hard to see that compared with many other food companies in the market, Kjeldsens is taking a step-by-step approach to innovation. To some extent, it can even be considered quite conservative.
"That's because Kjeldsens has a long history with a classic recipe. If we want to make changes, we need to look at the new trends first and consider the market value it can bring. Increasing the numbers of SKU is not our ultimate target. It must be able to bring positive output." Zhang told us.
Interestingly, its new owner, Ferrero, has the exact same attitude on innovation.
"In an ever-changing market such as China, we were initially considering rapid innovation, but later we believed the better choice for Ferrero was to grow with the intensive cultivation and innovation, which means that we will choose the right timing for diverse extension by importing successful flavors from overseas markets after establishing a popular product in China. We will not make something that is only popular for a short period of time," as representative from Ferrero told us.
The latest example is the introduction of two new flavors of Kinder Bueno to China for the very first time at CIIE – the cool and lighter black chocolate flavor and the elegant and richer white chocolate flavor. After witnessing the strong performance of Kinder Bueno during the pandemic, Ferrero believes this is a great opportunity to expand its product portfolio.
"In some European markets, black and white chocolates are the market-tested SKUs. We've made thorough consideration as to when to import them into China. These two flavors will make their way into the Chinese market this year," the same representative said.
She added that this is mainly because Ferrero saw Kinder Bueno performing very well while other SKUs suffered due to a decrease in gifting during the pandemic. "Compared to something with strong gifting properties, a small package product designed for self-indulgence shines more brightly at a time like this. A small piece of sweet can cheer you up, at a favorable price."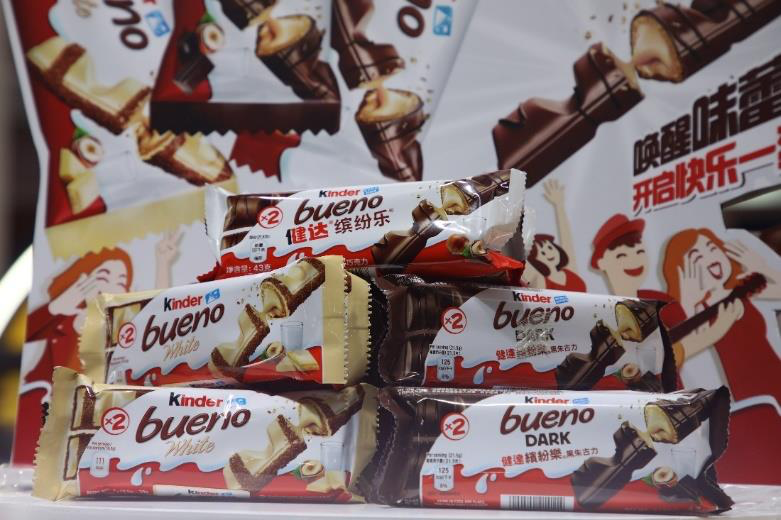 Ferrero believes that in the post-pandemic area, personal chocolate consumption will continue to grow in addition to conventional gifting. "We believe we can seize opportunities provided by this continued trend. That's why we chose to expand our product line at this time and bring more new flavors into China."
Targeting to double the sales network
Go back to Kjeldsens. The biggest help provided by its new owner, Ferrero, is the expansion of sales channel.
So far, Kjeldsens is mainly sold in Southern and surrounding markets exposed to Hong Kong in China. As we have introduced, Kjeldsens was initially imported into Mainland China through Hong Kong from Denmark. In 2015, Kjeldsens Campbell (Shanghai) Management Co. Ltd was founded in Shanghai to manage the sales business in China. The company was wholly owned by Kjeldsen & Co. (Hong Kong) Ltd.
Therefore, the key for Kjeldsens right now is to enter previously unchartered markets. Zhang said that Ferrero has been in the Chinese market for a longer time and has a larger distribution network. It will provide tremendous support to help Kjeldsens expand into new areas and markets.
"In the short term, the biggest driving force for our growth is to leverage Ferrero's online and offline channels to provide horizontal and vertical distribution," Zhang told us.
As Ferrero mentioned before, through the organic integration and cooperative operation, the number of stores selling Kjeldsens is expected to double in 2021.
We have also learned from Ferrero that in order to better utilize opportunities in sales channels, the company has another big plan: its internal e-commerce team will be reorganized and expanded into a new "e-commerce/new retail" team. There will also be a "digital acceleration and transformation" team focused on big data analysis.
"This year, Ferrero China has begun the integration of its online and offline teams, as well as Kjeldsens' online business. The integration is expected to act as a powerful driving force for its business." A representative from Ferrero told us. Construction for this new architecture began last year and was already completed by the beginning of this year. It was also implemented during the epidemic.
This change has brought tangible growth for Ferrero. According to statistics from EC Dataway, in September 2020, Ferrero led the industry in online chocolate product sales for the first time (Note: FERRERO only, not including Kjeldsens).
"Our team is also working for Kjeldsens, including its future O2O business development," the same representative said. Furthermore, she mentioned that Kjeldsens is more focusing on channels expansion for the time being – "in the future, we will be selling at more convenience stores."
Right now, most of the cooperation takes place in the background. From a customer's point of view, the two companies are running independently. For example, on Tmall, you will not find any Kjeldsens products in Ferrero's flagship store and vice versa.
"The coronavirus epidemic has been damaging but it has also brought opportunities. We can actually use this time to make some quick strategic adjustments," Zhang told us.
Faster growth this year
Despite the coronavirus epidemic this year, Zhang expressed that Kjeldsens is still confident that it will achieve double-digit growth in the Chinese market.
"Last year, sales volume was approximately around RMB 400 million, more than the year before. This year, we hope to achieve double-digit growth," she said. As we learned, China is currently the largest market for Kjeldsens in the world, responsible for more than half of its total sales volume.
China is also the fastest growth market for Sweet Packaged Food in the world. According to data from Euromonitor Consulting, the market value for Sweet Packaged Food in China is currently at almost 41 billion euros, behind only the United States, but China holds the fastest growing rate and it is expected to surpass the US in five years.
The company has also just cleared an obstacle for its long-term development in China.
Recently, Kelsen Group A/S received the Civil Judgment in favor of Kelsen Group A/S, in which Beijing Intellectual Property Court sustained the first instance judgment of the Shijingshan District Court. Kelsen Group A/S won the appeal case on unfair competition against Youyijia (Shanghai) Food Trading Co., Ltd.
The decision ordered that the appellant Youyijia to stop claiming Danisa Cookies that are made before September 4, 2014 were made in Denmark as Youyijia had delivered repeatedly suggestive and misleading information on the place of origin of its products in advertisement.
"This is not only important for Kjeldsens – it also protects consumers' rights. They deserve to know what it means to be the real authentic Danish cookie," said Zhang. "I believe that cookies of Denmark origin are not just a product. They're also a praise of the products quality."
Ms. Zhang explained that Kjeldsens has seldom publicized these features in the past and the brand will further explore this area in the future. "We will educate customers on our product recipe and its place of origin. In my opinion, these are also some of the core competitive advantages of Kjeldsens."